ONE's component asset register equipment types function, enables the main method of item classification in the asset register.
Each equipment type may have sub types and may be set up however you require. You are not limited to what is 'in the box' or the example terminology or data schema.
For example Pipework could have sub equipment types for features of:
Bend
Weld
Tee
Deadleg
Straight
Reducer
Trunnion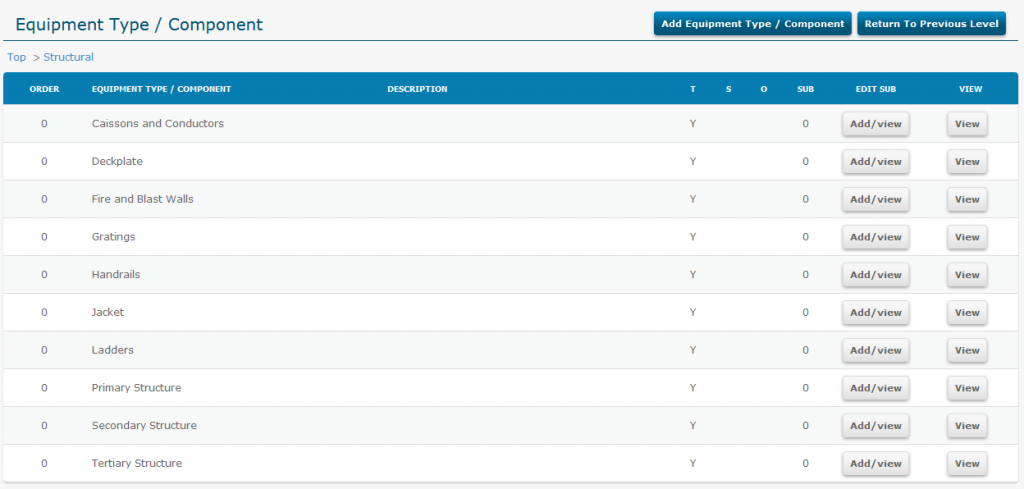 Structural could have sub equipment types of:
Caissons and Conductors
Deckplate
Fire and Blast Walls
Gratings
Handrails
Jacket
Ladders
Primary Structure
Secondary Structure
Tertiary Structure
Similarly, Vessels may have subtypes as:
Heat Exchanger
Heater
Vessel Shell
Tank
Vessel Nozzle
Vessel Dome
Vessel Bridle
Vessel Tubes
Pig Trap
Each equipment type may have separate sets of data attributes assigned, or use the common inheritance from the parent level. The equipment type also defines when the component may be used to record an anomaly.