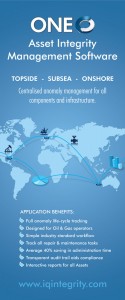 IQ Integrity's seasoned traveler Alan Gillespie will be at AOG 2014, the Australasian Oil & Gas Exhibition & Conference from 19 – 21 February 2014, in Perth Western Australia.
Go see him on stand O2 on the Scottish Development International stand: look out for the banner.
Alan will happily talk through what we do and it's almost a certainty some of you have a problem that we can fix or at least make it less of an issue.
Alan will be in Perth from 10th February to 21 February, at AOG 2014 and having discussions with a few integrity managers.
So, if you would like to organise a quick demo of ONE while he's there, we can probably find a space in his diary somewhere over these two weeks.
Contact us for details and information here>>
Download the latest ONE solutions brochure here>>